One way I put leadership theory in practice is by being an authentic leader; not only in words but also in action. While finishing one of my leadership courses within my Masters program, I wrote a paper on the four characteristics of authentic leadership. The following is summary of that paper.
As the paper was academic in nature, this article will be a bit more "studious" than what most our readers are used to seeing from Online Leadership Network. But let's give authentic leadership the true attention it deserves, shall we? I also left the references at the bottom, in case anyone wants to follow up on my sources and do some further reading.
4 Characteristics of Authentic Leadership
Throughout my life as a leader, I have adopted many leadership approaches, depending on the situation. Michael Zigarelli would describe this flexibility as Situational Leadership, but I would like to expand on my approach, as it defines something more specific.
Regardless of how I lead in a situation, I endeavor to make decisions based on a set of values, principles and ethical guidelines while staying true to my moral compass. Jackson and Perry, in their publication on leadership, noted that scholars of Authentic Leadership define authenticity as "having clear and certain knowledge about oneself in all regards (e.g. beliefs, preferences, strengths, weaknesses) and behaving consistently with that self-knowledge."
To compare and contrast Authentic Leadership with other leadership styles as well as examine its strengths and weaknesses, I will lay out and analyze the four characteristics of an authentic leader, as outlined by the very same Jackson and Parry. When leaders behave in these four ways, they have a deeper and more meaningful relationship with their followers, in addition to being and leading a team that is more self-aware.
Ethics and Moral Code
First, an authentic leader needs to behave in a way that fosters and reinforces both a strong ethical atmosphere as well as positive psychological development. Successful organizations have ethical practices that need to be communicated "across the board".
At the not-for-profit agency I used to work for, there was a workshop focused on the ethical foundations and practices of the organization that all staff were required to take. In accordance with that, I provided a safe environment in which staff could express themselves freely and honestly. I rejected the image of unilateral Authority which often causes people to be fearful of expressing themselves.
In terms of creating a place where others can psychologically blossom, this task is becoming increasingly more difficult as the workplaces of today are becoming more demographically diverse. What is considered a "positive" environment can differ based on factors such as age, race and gender. To address this issue, each organization should clearly define what it believes a positive work environment to be.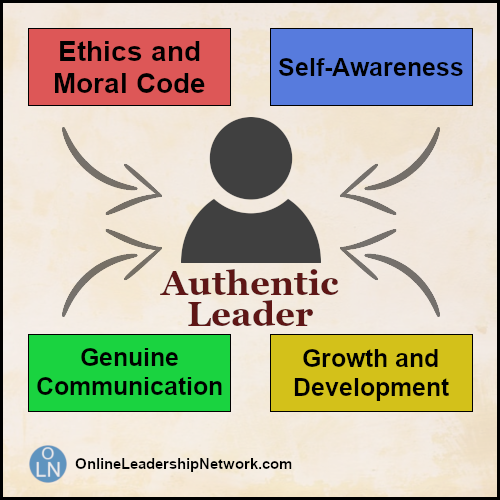 Self-Awareness
The second identified behaviour in an authentic leader focuses on the area of self-awareness. It is important not only to be aware of your own strengths, weaknesses, perceptions and values but also support others in this journey.
In her article, Taylor comments that self-awareness is essential to leadership. In my leadership experience, and in my experience as a follower, I believe this is an accurate point of view. Before getting an office position, I worked in treatment homes that housed troubled youth; an environment in which one's self-awareness – or lack of it – can result in a high pressure situation either escalating or de-escalating. For instance, I love to be funny. However, I needed to learn that humour, even though well-intended, can still make a teenager more upset rather than calm them down.
This is also true when dealing with staff. As a trained Critical Incident Stress de-briefer, one of the final stages I address with the participants after an incident is "what is one thing you have learned?" This provides an opportunity for reflection and often some gained self-awareness. Authentic Leadership challenges you to be self-aware in all situations, but only after experiencing something and reflecting on it can you realize whether you are good or bad at something specific. And let's not forget – no matter what we have been through, there are still many other experiences to be had out there. So, self-awareness certainly takes time.
Genuine Communication
The third behaviour of an authentic leader is broken up into three parts: own your morality, looking at all sides of all situations and communicating openly and honestly with your followers.
It is important that leaders listen to the points of views of others with an open mind while at the same time owning and sharing their own beliefs and values. The awareness of both, followed by conversation, creates a deeper, more meaningful relationship between followers and leaders. This is in contrast to Transactional Leadership, in which the relationship is more superficial and based on a reward/consequence interaction.
In situations where it is difficult to be fully transparent (for example in relationships where privileged or classified information cannot be shared with everyone), it's still important to avoid being deceptive. I had to learn this one the hard way, but now I usually say something along the lines of "I cannot discuss that, sorry", when I cannot divulge something to a team member. By being open and honest, a stronger rapport is built and a deeper level of trust is achieved.
Growth and Development
Jackson and Parry state that the final goal of an authentic leader is to become one who "fosters positive self-development". As in self-awareness, the leader needs to acknowledge both their own and others' need for growth and self-improvement. There is always knowledge to be gained or a skill to foster that would positively impact someone's work performance.
Zigarelli claims that part of a Servant Leader's role is to assist their followers in meeting their identified needs; which in turn promotes a trusting relationship between the follower and the leader. I find that this is true and applies to Authentic Leadership as well. Take – for instance – the relationship between the availability and the specialization of training. The less available and the more specialized the training, the more positively it impacts the leader-follower relationship.
Unfortunately, due to financial restraints, I have also seen and have been a part of a decision-making process in which the more costly training was reserved for more long-term employees, as opposed to those who it would benefit from it more.
Characteristics of Authentic Leadership in Practice
The four characteristics of Authentic Leadership should be practiced as much as possible. Of course, there will be times when even as leaders we are not prepared for a situation that suddenly arises, or cannot provide the training that someone wants and would benefit from. But whenever possible, the Authentic Leader strives for total self-awareness, a balanced decision-making process, an open and honest communication, and an ongoing self-development. Not to mention a strong moral compass. He or she can then foster and encourage these types of behaviors in others.
If you are interested in authentic leadership, as well as other leadership styles, techniques and skills, be sure to join our free leadership newsletter. We will deliver not only educational material right to your doorstep, but will also give you practical information on motivating and inspiring your team, positively influencing others, making sound decisions and being a better leader.
References

Jackson, B., & Parry, K. (2011). A very short, fairly interesting and reasonably cheap book about studying leadership (2nd ed). Sage Publishing. Los Angeles.

Taylor, M. (2013). The evolution of leadership worldviews and orientations in western culture. Unpublished Occasional Paper. Royal Roads University.

Zigarelli, M. (2013). Ten leadership theories in five minutes [YouTube]. Retrieved from https://www.youtube.com/watch?v=XKUPDUDOBVo&feature=youtu.be