When I was doing my Graduate Program, I did a Graduate Certificate on Values-Based Leadership. There were many ways to explain a values-based leader, some more complex than others.
Both Greg and I strongly identify with being values-based leaders. So, without overcomplicating any definitions, let me break down what a values-based leader (VBL) is, in 4 easy steps.
1. Understand Your Values
No surprise, the first aspect of being a values-based leader is to truly understand your own values. What motivates you? What makes you get out of bed and go to work? Why do you want to lead?
These are all important things to understand about yourself. Before you can help others explore and understand their values, it is important to understand your own. When you identify your most important values, you can understand why you do the things you do.
So, take some time to answer the above questions for yourself.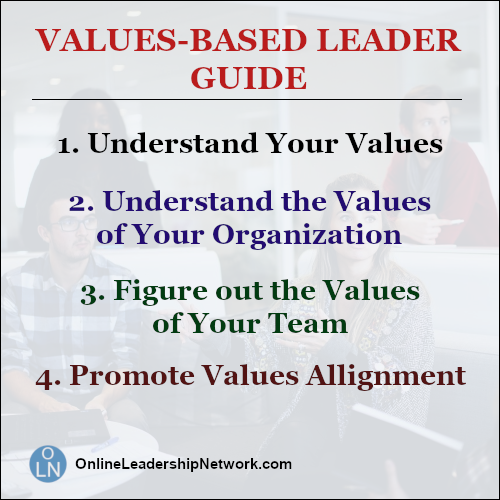 When I started my VBL Graduate Studies, I was introduced to a person named Richard Barrett. He runs an organization called the Barrett Values Centre. On his website, he offers a free Personal Values Assessment.
If you would like to take the assessment, click here. I found this assessment very valuable and the information I learned was thought provoking. I believe that you will find it valuable as well.
2. Understand the Values of Your Organization
Now that you understand your values more concretely, ensure that you understand the values of the organization you are working or volunteering for. All organizations usually have a list of values they uphold and strive to communicate to all their employees.
These are usually listed in their Policies & Procedures manual as well as on their website. They are connected to their mission statements as well as their vision. I have seen many websites that not only list organizational values but go the extra mile to define them, so that there is a shared understanding and no confusion as to what they truly mean to all involved.
As a leader, you should know and be able to communicate these values to your team. If you have questions, ask other leaders or your supervisor for clarification.
By doing this, you will learn how to engage in values-based conversations. Not only will you show your supervisor that you are very interested in why the organization runs the way it does, but you will also encourage your leadership group to have these types of important discussions.
And, if they have questions about the organization's values themselves, they may feel encouraged to ask as well.
As a leader, you should be able to communicate the values of the organization to your team.
Remember, as a leader, it is vital that you not only know these values, but practice them as well. And if you find certain values that you do not practice, you need to do some soul searching and start figuring out either what you can do to start practicing organizational values, or ask yourself "Am I the right leader for this organization?"
By aligning your values with a proper organization, you WILL be a better leader.
Also, engage in these types of conversations with your friends, even if they are not in the same organization as you. You will be surprised on what you can learn both about the person you are talking to and about yourself.
Greg and I have had many values-based conversations and were able to help each other deepen our understanding of our own values in our private and professional lives.
3. Figure Out the Values of Your Team
When I first started as a Team Leader – and even before then – I would often engage in values-based conversations with my team. I felt it was important to do this as I have always had a desire to find out what makes people tick.
I also believe that these types of conversations have more meaning – you cannot engage in a true values-based dialogue without having a deep conversation.
Invite your team to take the Personal Values Assessment I mentioned above. Then have a conversation about their results.
You may wish to have one-on-one conversations with each team member or have a conversation with the whole team. You can even do both, by having a group conversation after individual ones, or by bringing up the topic in casual settings when it makes sense to do so.
I would advise you to start each conversation by sharing your own values with the team, targeting your top three to five values. Let them know why you hold these values near and dear to you. Let them know how you try to demonstrate these values on a regular basis.
For example, if you value trust, talk about how you show trust to others and why it is important that others trust you.
Then, invite the team to share with each other what they value and why. Ask them how they demonstrate these values and how they feel when those values are demonstrated around them.
Ensure that such conversations happen on a regular basis.
4. Values Alignment
When having such conversations, ask your team if they know the values of the organization. Some people on your team may either not know them or not be clear about them. Others may have them memorized.
Do not worry if some or all of your team are not fully aware of the values of the organization. This can be more or less common, depending on an organization's emphasis on ensuring that employees know these values.
After all, this is why you are there! Part of your role as a values-based leader is to teach the organization's values and ensure that your team follows them.
The concept of values alignment is that employees' values align with those of the organization to a point at which they can do their jobs well and represent the organization positively and in a way that compliments the organization. If there is a huge values gap between an employee and the organization, then they have some work to do.
And, as their leader, it is your responsibility to support them as much as possible.
And in doing so, ensure that your followers are also doing their share of the learning process. Their responsibility is to follow the values of the organization.
The concept of values alignment is that employees' values align with those of the organization to a point in which they can do their jobs well and represent the organization positively and in a way that compliments the organization.
I am very passionate about values-based leadership. Even before I knew it intimately, it was part of my mindset for much of my life – whether I was in a leadership role or in a leadership position. I invite you not only to be a values-based leader in practice but also to develop the philosophy and mindset of a values-based leader.
Become a values-based leader!
Want more leadership information and training that you can put to practice right away? Join our newsletter! As value-based leaders, both Greg and I pack our newsletters full of tips and techniques that let you put the leadership THEORY into ACTION right away!
Click here to join our newsletter right now!